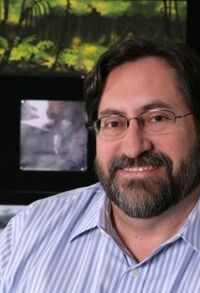 Bob Peterson, born January 18, 1961 (52 years old) in Wooster, Ohio, is an employee at Pixar Animation Studios who has performed the voice of Roz in Monsters, Inc. He has also provided vocals in other Pixar films, such as "Finding Nemo", "Up", "Toy Story" and "Cars". He has also worked as a writer on "Up" and the upcoming film "The Good Dinosaur".
Voices
This laugh canister is not full yet.
If you would like to help collect laughs to fill this canister, simply click the "Edit" button at the top of this page and expand this article.