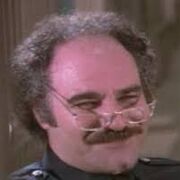 Steven "Steve" Susskind (October 3, 1942 – January 21, 2005) was an American actor, voice artist, and comedian who voiced Jerry in Monsters, Inc. His acting roles also included Round Trip to Heaven, Sandman, Ping!, and Sing.
On January 21, 2005, Susskind died of a severe automobile crash at the age of 71, 9 months before his 72nd birthday.
Voices
This laugh canister is not full yet.
If you would like to help collect laughs to fill this canister, simply click the "Edit" button at the top of this page and expand this article.